Posts for: June, 2013
By David A.Susko DDS, PC
June 26, 2013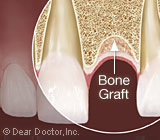 Dental implants are a great choice for many people who need to permanently replace a missing tooth. Reliable and long-lasting, they offer a highly successful outcome, and can even help reduce long-term bone loss and damage to adjacent teeth. One of the best features of implants is that the titanium metal of which they're made actually becomes fused with your natural, living bone tissue.
But sometimes, an examination may show that where you have missing teeth, you may not have enough bone remaining to properly place an implant. Does this mean you're out of luck? Not necessarily!
Employing the refined techniques of bone grafting, regenerating bone tissue has become a standard procedure in periodontal and oral surgery. In many cases, it's possible to build up just the right amount of bone using a variety of grafting materials, in combination with other special techniques. This can enable patients who wouldn't otherwise be good candidates to enjoy the benefits of dental implants.
How does it work? Basically, by helping your body repair itself.
You may already know that bone is a living tissue, which can respond to its environment positively (by growing) or negatively (by resorbing or shrinking). When you've lost bone tissue, the trick is to get your body to grow more exactly where you want it. Once we know where — and how much — replacement bone is needed, we can place the proper amount of bone grafting material in that location. Then, in most cases, the body will use that material as a scaffold to regenerate its own bone.
Bone grafting is often done at the time of tooth removal as a preventive procedure or prior to the placement of an implant, to give the body time to re-grow enough of its own tissue. The procedure is generally carried out under local anesthesia, or with the aid of conscious sedation. Sometimes, if there is enough natural bone to stabilize it, it's even possible to place an implant and perform a bone graft at the same time.
So if you're considering dental implants, let us advise you on what's best for your particular situation. We have the knowledge and experience to help you make the right choices, and achieve the most successful outcome.
If you would like more information about bone grafting, please contact us or schedule an appointment for a consultation. You can learn more in the Dear Doctor magazine article "Can Dentists Rebuild Bone?"
By David A.Susko DDS, PC
June 13, 2013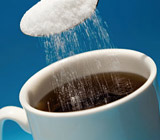 Refined sugar — most commonly consumed as table sugar or high fructose corn syrup — has developed a reputation as Public Health Enemy #1 among many consumers. These consumers are seeking ways to cut back or even eliminate refined sugar from their diets.
But that may be easier said than done because of our innate "sweet tooth" — the basic human desire for the taste of sweetness in our food. It's been demonstrated to have a biological basis, tapping into the "feel good" reward centers of our brain. For many of us, this desire is a craving that begs to be satisfied.
Artificial sweeteners are now used by many consumers to satisfy this desire apart from refined sugar. The question is, are they safe for your health and well-being? And when it comes to your teeth, do they hinder or promote good oral health?
As to the first question, all the major types of artificial sweeteners (saccharine, aspartame, sucrolose, acesulfame K and rebaudioside A) have undergone rigorous test trials and research for many years. The result, amid wide scientific agreement, is that they indeed are safe if consumed in acceptable levels, and all are FDA-approved.
In recent years different kinds of sweeteners called sugar alcohols (like Xylitol) have been approved as safe and are growing in popularity. The biggest difference between these and the traditional artificial sweetener is a low presence of calories while artificial sweeteners contain none.
So how do these two categories affect dental health? Of greatest significance is that, unlike refined sugar, these sweeteners do not feed the growth of decay-causing bacteria in the mouth. In fact, there is some evidence that sugar alcohols may actually reduce bacteria levels.
While there are still some concerns that artificial sweeteners may contribute to overeating or metabolic problems, there are no current official guidelines against their use. And when used moderately, there is evidence that Xylitol may even be an effective weapon in the fight against tooth decay.
If you would like more information on artificial sweeteners and how they may affect your oral health, please contact us or schedule an appointment for a consultation. You can also learn more about this topic by reading the Dear Doctor magazine article "Artificial Sweeteners."