Posts for: July, 2014
By David A.Susko DDS, PC
July 23, 2014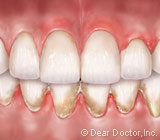 As we continue to learn about the delicate balance between the body's various organ systems, we're discovering what affects one part of the body may affect other parts. This is particularly true for patients with periodontal (gum) disease and one or more other systemic diseases — researchers have identified a number of possible links between them.
Here's a snapshot of three such diseases and how patients who suffer from them and gum disease may be affected.
Diabetes. Both diabetes (caused by the body's inability to produce insulin that regulates blood sugar levels) and gum disease can trigger chronic tissue inflammation. Because of inflammation, diabetics are more prone to infectious diseases like gum disease. From the other perspective, uncontrolled gum disease and its resultant inflammation can worsen blood sugar levels. Some research has shown treatments that reduce oral tissue inflammation in diabetics with gum disease may also help bring their blood sugar levels into normal range.
Cardiovascular Disease. Diseases of the heart and blood vessels can eventually lead to heart attacks and strokes, the world's leading causes of death. There's evidence that some types of bacteria that cause gum disease may also contribute to higher risks for cardiovascular disease. Reducing the levels of these bacteria in the mouth through periodontal treatment can help lower the risk of cardiovascular disease.
Osteoporosis. Like gum disease, osteoporosis causes acute bone loss, although from a hormonal imbalance rather than as the result of bacterial infection. The major link between the two conditions, though, relates to their treatments. On the positive side, the antibiotic doxycycline has displayed positive effects on both conditions when administered in low doses. On the other hand, a class of drugs known as bisphosphonates used to treat osteoporosis may limit bone regeneration after tooth extraction and could have implications for using dental implants to replace extracted teeth.
There's still more research needed on the relationship between gum disease and these and other systemic conditions. There's widespread optimism, though, that such research could yield new treatment approaches and procedures that bring better healing to the mouth as well as the rest of the body.
If you would like more information on the connection between oral and general health, please contact us or schedule an appointment for a consultation. You can also learn more about this topic by reading the Dear Doctor magazine article "Good Oral Health Leads to Better Health Overall."
By David A.Susko DDS, PC
July 15, 2014
A wise man once said, "No man is an island." Something similar could be said about our teeth — their health and vitality are intricately linked with a person's general health. Missing teeth in particular can set off a chain reaction that leads to bone loss, an issue for both your health and appearance.
Bone is composed of living cells that go through normal cycles of growth and resorption (the dissolving of mineral composition in the bone). In our early years, there's more growth than resorption as our skeletal structure develops; in adulthood the cycle tends to equalize between the two phases. In our later years, the cycle tends more toward resorption.
The action of biting and chewing actually helps keep the cycle on track as the generated forces stimulate bone growth. When teeth are missing, though, the bone no longer receives this stimulation and will resorb at a higher rate. This is especially a concern for people who've suffered a complete loss of their teeth.
This bone loss may in turn trigger a number of related problems. The jaws may no longer close properly, leading to painful stress in the joints. Nutrition suffers as food choices become limited due to the lack of teeth and bite problems. And, a person's appearance may change as well — the bone loss shortens the look of the face and causes the person to appear much older than they are.
Because of these potential problems, we should do everything we can to preserve and prolong natural teeth. But if preservation isn't an option, then some form of restoration should be pursued. Dental implants in particular may actually prevent and even reverse bone loss. Bone has an affinity with titanium (which is what the implant is made from) and will attach and grow around it over time. This not only anchors the implant, it also increases bone mass where it may have been prematurely lost.
Caring for and preserving your natural teeth is one of the best things you can do for the health of your jawbone. If you lose your teeth, though, there are ways to restore them and protect bone health — and your smile — at the same time.
If you would like more information on the effects of tooth loss, please contact us or schedule an appointment for a consultation. You can also learn more about this topic by reading the Dear Doctor magazine article "New Teeth in One Day."