Posts for: April, 2018
By David A.Susko DDS, PC
April 12, 2018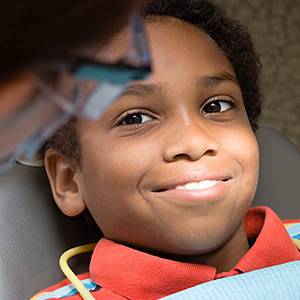 Even though baby teeth are not meant to last forever, they serve some very important functions for the time they are around. Healthy baby teeth allow your child to bite and chew food, articulate sounds correctly during speech, and, of course, to smile! They also help guide the permanent teeth, which will one day replace them, into proper alignment. So it's important to take good care of them while they're here. Let's answer some frequently asked questions about pediatric dentistry.
Can I get my teeth cleaned while I'm pregnant?
Yes — and you should! Both the American Dental Association and the American Congress of Obstetricians and Gynecologists recommend that women keep up with their regular schedule of dental cleanings and exams during pregnancy. Not doing so can allow disease-causing oral bacterial to flourish, which can be a health risk for both the expectant mother and her fetus.
Do infants need their teeth brushed?
Yes, it's important to start a daily oral hygiene routine as soon as the first baby tooth appears — usually sometime between six and nine months of age. Use a very soft-bristled child-sized toothbrush and just a smear of fluoride toothpaste (the size of a grain of rice). When your child turns 3, increase the amount of fluoride toothpaste to the size of a pea.
When should I take my child in for her first dental appointment?
The answer to this one may surprise you: All children should see a dentist by the age of 1. Early dental visits get children accustomed to having their mouths examined and their teeth cleaned. Establishing this healthy habit early will go a long way toward promoting a lifetime of good oral health.
Should I worry that my child sucks his thumb?
That depends on how old he is. Thumb sucking is a normal, comforting habit for babies and toddlers. Most outgrow it by the time they are 4. But kids who don't are at increased risk for orthodontic issues later on. If your child seems unable to break the habit, let us know; we can give you more detailed recommendations at your next appointment.
What can I do to prevent my children from getting cavities?
Make sure your children have an effective daily oral hygiene routine that includes brushing with fluoride toothpaste twice a day and flossing at least once per day. If they are too young to do a good job by themselves, help them complete these important tasks. Keep their sugar consumption as low as possible; pay particular attention to beverages — soda, sports drinks and even 100 % natural fruit juices can all promote tooth decay. We can offer individualized advice on fighting cavities, and even provide fluoride treatments and dental sealants for extra protection against cavities. So don't forget to bring your child in to the dental office for regular exams and cleanings!
If you would like more information about caring for your child's teeth, please contact us or schedule an appointment for a consultation.
By David A.Susko DDS, PC
April 04, 2018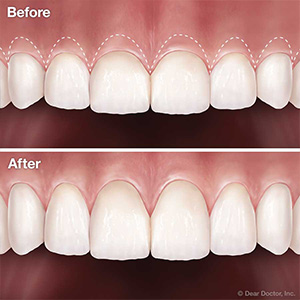 While we often associate tooth decay with cavities forming in a tooth's visible or biting surfaces, the occurrence of this all too common disease isn't limited to those areas. Cavities can develop in any part of a tooth exposed to bacteria.
Gum recession, the shrinking back of the gums from the teeth, can cause such exposure in areas normally covered by the gums. Because these areas are usually more vulnerable to infection when exposed, cavities can develop at or right below the gum line. Because of their location it can be difficult to fill them or perform other treatments.
One way to make it less difficult is to perform a crown lengthening procedure. While the term sounds like we're increasing the size of the tooth, we're actually surgically altering the gums to access more of the affected tooth surface for treatment. It's typically performed in a dental office with local anesthesia by a general dentist or a periodontist, a specialist in the gums.
During the procedure, the dentist starts by making small incisions in the gums to create a tissue "flap" that can be lifted out of the way. This exposes the underlying bone, which they then reshape to support the gum tissue once it's re-situated in its new position. The dentist then sutures the gums back in place. Once the gums heal, the decayed area is ready for treatment.
Crown lengthening is also useful for other situations besides treating cavities. If a tooth has broken off at the gum line, for example, there may not be enough remaining structure to support a crown. Crown lengthening can make more of the underlying tooth available for the crown to "grab" onto. It's also useful in some cases of "gummy smiles," in which too much of the gum tissue is visible in proportion to the tooth size.
Because crown lengthening often involves removing some of the bone and is thus irreversible, you should discuss this procedure with your dentist in depth beforehand. It could be, though, this minor procedure might make it easier to preserve your teeth and even make them look more attractive.
If you would like more information on crown lengthening, please contact us or schedule an appointment for a consultation.