A Minor Procedure Could Help an Infant With This Nursing Problem
By David A.Susko DDS, PC
January 28, 2022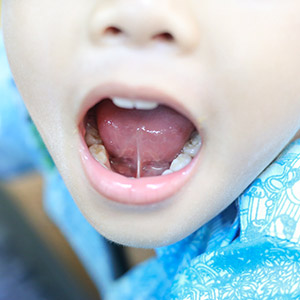 Newborns come into the world eager and ready to partake of their mother's milk. But an anatomical quirk with some infants could make breastfeeding more difficult for them.
The structure in question is a frenum, a tiny band of tissue connecting softer parts of the mouth with firmer parts, like the upper lip to the gums, and the tongue to the floor of the mouth. If they're abnormally short, thick or tight, however, the baby might find it difficult to obtain a good seal around the mother's nipple.
Without that seal, the baby has a difficult time drawing milk out of the breast and as a result, they may attempt to compensate by chewing on the nipple. The sad outcome is often continuing hunger and frustration for the baby, and pain for the mother.
To alleviate this problem, a physician can clip the frenum to loosen it. Known as a frenotomy, (or a frenectomy or frenuplasty, depending on the exact actions taken), it's a minor procedure a doctor can perform in their office.
It begins with the doctor deadening the area with a numbing gel or injected anesthesia. After a few minutes to allow the anesthesia to take effect, they clip the frenum with surgical scissors or with a laser (there's usually little to no bleeding with the latter).
Once the frenum has been clipped, the baby should be able to nurse right away. However, they may have a learning curve to using the now freed-up parts of their mouth to obtain a solid seal while nursing.
Abnormal frenums that interfere with nursing are usually treated as soon as possible. But even if it isn't impeding breastfeeding, an abnormal frenum could eventually interfere with other functions like speech development, or it could foster the development of a gap between the front teeth. It may be necessary, then, to revisit the frenum at an older age and treat it at that time.
Although technically a surgical procedure, frenotomies are minor and safe to perform on newborns. Their outcome, though, can be transformative, allowing a newborn to gain the full nourishment and emotional bonding they need while breastfeeding.
If you would like more information on tongue or lip ties, please contact us or schedule an appointment for a consultation. You can also learn more about this topic by reading the Dear Doctor magazine article "Tongue Ties, Lip Ties and Breastfeeding."