Some Facts About Thumb Sucking
By David A.Susko DDS, PC
March 03, 2012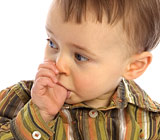 It may alarm some people, but finger or thumb sucking is a completely normal activity for babies and young children. In fact, sonograms often reveal babies sucking a finger or thumb while still in the womb! However, if children are allowed to suck fingers, thumbs or pacifiers indefinitely, it can become problematic, with serious consequences particularly as they get older.
The list below contains important facts about thumb sucking and pacifiers that all parents of young infants should know.
The American Academy of Pediatric Dentistry recommends that parents and caregivers encourage children to stop thumb sucking by age 3.
Recent studies have shown that pacifier use after the age of two may cause long-term changes in the mouth; thus these researchers recommend stopping pacifier use by 18 months.
If thumb and finger sucking habits do not stop soon enough, the upper front teeth may tip toward the lip or not come into the correct position in the mouth.
Most children who suck their thumbs or fingers tend to stop between the ages of 2 and 4.
For obvious reasons, a pacifier habit is often easier to break than a finger or thumb-sucking habit.
One tip for encouraging older children to stop this habit gradually is to use behavior modification with appropriate rewards given at pre-determined intervals to refrain from using a pacifier, or sucking fingers or a thumb.
Be sure to inform us if any of your children suck their fingers, thumb or a pacifier so that we can begin monitoring their development. Our general recommendation is that you schedule an appointment around your child's first birthday.