Posts for tag: bridgework
By David A.Susko DDS, PC
January 08, 2021

What a difference forty years can make: Dental bridges once occupied the top spot for choices to replace missing teeth until the arrival of dental implants in the 1980s. Today, dental implants are the gold standard for dental restoration.
But although bridgework may have lost "first chair" in the orchestra of restorations, it's still a viable option. In fact, it can be the best option in certain situations.
Bridges consist of a series of porcelain crowns fused together like fence pickets. The center crowns, known as the pontics, "bridge" the gap left by a missing tooth or teeth. The crowns on each end, the abutment teeth, crown the natural teeth on either side of the gap to support the bridge.
Bridges are effective and durable, but with a major downside: To accommodate the abutment crowns, we must reduce the size of the natural teeth to which they'll be attached. This alteration can weaken those teeth's structure and require them from then on to have some form of restoration. They're also at higher risk for tooth decay.
Implants, on the other hand, don't require this alteration, and may also be more durable than bridges. Why then consider a bridge?
Price can be a factor: Implants may be more expensive, especially involving multiple teeth. Keep in mind, though, that this only compares the initial cost: Because implants have a 95% or more ten-year success rate, with further evidence they could potentially last for decades, they may actually cost less in the long-run than bridge restorations that have a higher chance of being replaced sooner.
But the prime reason is that some dental situations aren't suitable for dental implants. For instance, implants require a certain amount of bone for proper placement, so people with extensive bone loss may not be able to acquire them. Health conditions like uncontrolled diabetes or a compromised immune system can also complicate implant installation. A bridge in these cases may represent a better alternative.
With the help of your dentist, you'll need to consider your individual situation, dental and financial, in deciding between an implant or a bridge. And, if a dental bridge is your best option, it will be a solid choice for restoring your missing teeth and your smile.
If you would like more information on various dental restoration methods, please contact us or schedule an appointment for a consultation. You can also learn more about this topic by reading the Dear Doctor magazine article "Crowns & Bridgework."
By David A.Susko DDS, PC
July 09, 2012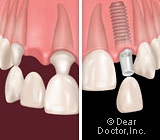 Before determining if a bridge or an implant will work best for you, here is some useful background information. There are two main parts to a tooth; the crown or part that you see above the gum line and the root portion that is below the gum line and encased in bone — the part that is replaced by a dental implant.
A dental implant is inserted into the jawbone during a surgical procedure. The implant is actually a titanium screw-like device that is placed in contact with the bone. During a 3 to 6 month healing period, it subsequently fuses to the bone. A crown made from dental porcelain, gold or a combination of both is then attached to the implant to mimic a healthy, normal tooth.
There are two critical reasons why implants are the preferred method for permanently replacing an adult tooth. The first is that they are less susceptible to gum disease and they are not subject to tooth decay. The second is that because they attach to the jawbone and not to the adjacent teeth. And while an implant may cost a little more initially, when compared to the longevity and replacement cost of bridgework over a lifetime, they may cost less.
By contrast, a fixed bridge is also a non-removable restoration or prosthesis (replacement part) that is held in place by attaching it to your natural adjacent teeth. The treatment gets its name from the French word for bridge, "pont," as the tooth being replaced is called a pontic. Before placing a bridge, the teeth on either side of the missing tooth must be prepared by removing layers of tooth enamel. Three new teeth are then crafted as a single unit from dental porcelain and/or precious metals with crowns on either side of the pontic. The pontic is held in place when the crowns are placed. Bridgework is at risk for gum disease and tooth decay and requires careful maintenance.
As with most dental procedures you have options and choices. Luckily, when it comes to determining whether a bridge or an implant will work best for you, you can rely upon our expertise. However, by having a clear understanding of these two options you are now better prepared for working with us should you require this treatment option. To learn more read the article, "Implants Vs. Bridgework." Or, contact us to discuss your questions or to schedule an appointment.