Posts for tag: loose dentures
By David A.Susko DDS, PC
February 24, 2014
There's no dispute in most cases that dental implants are superior to removable dentures as a restoration for missing teeth. One area in particular is the effect a removable denture can have on remaining bone and other structures of the mouth, especially if their fit becomes loose.
If you're a denture wearer, you probably know that loose dentures are a major problem, one that can worsen the longer you wear them. The denture compresses the gum tissue it rests upon to produce forces that are more detrimental than what the jaw normally receives from natural teeth. The underlying bone will begin to dissolve (resorb) under these compressive forces. This in turn changes the dynamic of the denture's fit in the mouth, and you'll begin to notice the fit becoming looser over time.
The loose fit can be remedied with either the production of a new denture that updates the fit to the current structure of your jawbone or by relining the existing denture with new material. Relining can be done as a temporary measure with material added to the denture during your visit to the office, or as a more permanent solution in which the material is added at a dental laboratory. With the latter option, you would be without your dentures for at least a day or more.
Even if dental implants for multiple teeth aren't feasible for you financially, you do have other options. With one particular option, the removable lower denture can be held in place and supported by two strategically placed implants. Not only can this lessen the risk of developing a loose fitting denture, it may also alleviate most of the compression on the gum tissue and reduce the rate of bone resorption. The result is better function for eating and speaking and often a boost in self-confidence, as well as many more years of effective wear from your dentures by limiting bone loss.
If you would like more information on the effects and treatment of loose dentures, please contact us or schedule an appointment for a consultation. You can also learn more about this topic by reading the Dear Doctor magazine article "Loose Dentures."
By David A.Susko DDS, PC
September 04, 2011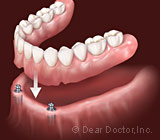 When a device meant to make your life easier doesn't function properly, it can be extremely frustrating. This is sometimes the case for people who wear lower dentures, which loosen over time. These removable replacement teeth can become less reliable and more uncomfortable. Why does this happen?
The answer is bone loss. When a tooth is lost, the bone surrounding it deteriorates and this will change the shape of the jawbone in your mouth. You may find that a lower denture that once had a snug fit on your lower jaw is now sliding around. This happens more often on the bottom because your muscular tongue pushes against the denture. Also, a top denture has more surface area due to an artificial palate to help create suction to the roof of the mouth and keep it in place.
Dental implants, which permanently replace the roots of teeth, do not loosen and they also prevent bone loss. But replacing a whole set of bottom teeth with dental implants and crowns is expensive. What to do?
There's a relatively new solution that combines the security of implants with the affordability of a removable denture. It's called an overdenture, and it may be something you want to consider. An overdenture is a lot like the removable lower denture you already have, only it fits over two implants strategically placed in your lower jaw. While the lower denture is still removable, its stability is greatly improved.
Studies have shown that people with two-implant overdentures have a higher quality of life, and receive better nutrition, than those wearing conventional dentures. It's not hard to figure out why: A more stable denture makes it easier to eat healthy foods such as vegetables — or, really, any foods — and prevents embarrassing slippage of false teeth.
If you are tired of living with a wiggly lower denture, contact us to discuss two-implant overdentures, or to schedule an appointment for a consultation.
You can read more about this topic in the Dear Doctor magazine article "Implant Overdentures for the Lower Jaw."