Posts for tag: loose teeth
By David A.Susko DDS, PC
July 14, 2016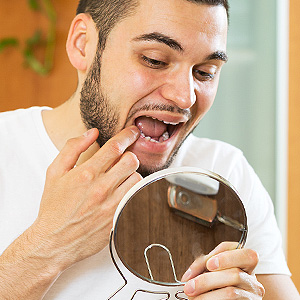 If you've noticed one of your teeth feeling loose, you're right to believe it's not a good thing. Loose permanent teeth are a sign of an underlying problem.
Periodontal (gum) disease is usually the culprit. Caused by bacterial plaque, a thin film of food particles, gum disease causes the tissues that support teeth to weaken and detach. While a tooth can become loose from too much biting force (primary occlusal trauma), it's more likely bone loss from gum disease has caused so much damage that even the forces from normal biting can trigger looseness.
A loose tooth must be treated or you may lose it altogether. If it's from gum disease, your treatment will have two phases.
In the first phase we need to stop the gum infection by removing plaque and calculus (hardened plaque deposits). Hand instruments known as scalers or ultrasonic equipment are usually sufficient for removing plaque and calculus around or just below the gum line. If the plaque extends deeper near or around the roots, we may need to consider surgical techniques to access these deeper deposits.
Once the infection is under control and the tissues have healed, we can then undertake the second phase: reducing biting forces by breaking clenching and grinding habits, doing a bite adjustment for advanced problems and securing loose teeth with splinting.
Although there are different types of splinting — both temporary and permanent — they all link loose teeth to adjacent secure teeth much like pickets in a fence. One way is to bond dental material to the outer enamel of all the teeth involved; a more permanent technique is to cut a small channel extending across all the teeth and bond a rigid metal splint within it.
To reduce biting forces on loose teeth, we might recommend wearing a bite guard to keep the teeth from generating excessive biting forces with each other. We may also recommend orthodontics to create a better bite or reshape the teeth's biting surfaces by grinding away small selected portions of tooth material so they generate less force.
Using the right combination of methods we can repair loose teeth and make them more secure. But time is of the essence: the sooner we begin treatment for a loose tooth, the better the outcome.
If you would like more information on treating loose teeth, please contact us or schedule an appointment for a consultation. You can also learn more about this topic by reading the Dear Doctor magazine article "Treatment for Loose Teeth."
By David A.Susko DDS, PC
September 26, 2014
A loose permanent tooth isn't normal — it represents a serious threat to the tooth's survival. There may be a chance to save the tooth, however, if we can determine the cause of the looseness and treat it appropriately.
Teeth are normally held securely in place by the periodontal ligament, an elastic tissue that attaches to both the teeth and the bone. Certain conditions, however, can disrupt this attachment. The most common is advanced periodontal (gum) disease, an infectious condition caused by bacterial plaque. It can severely inflame and damage the surrounding gum tissues resulting in bone loss. As the bone is lost, the periodontal ligament is lost as they detach from the teeth. In fact, tooth looseness may be a fairly late sign of the disease.
Another major cause is teeth grinding (bruxism) and clenching habits that result in excessive biting forces. Usually stress-related, teeth grinding and clenching generate forces on the teeth outside of their normal range. As a result the periodontal ligament can become stretched, inducing tooth looseness.
Our treatment approach depends on which condition is causing the looseness, best assessed with a thorough dental examination. If gum disease is the culprit, the main treatment is to remove as much bacterial plaque and calculus (tartar) as possible using various techniques such as scaling or root planing (accessing and cleaning root surfaces). It's also imperative for you the patient to start and maintain an effective hygiene regimen of daily brushing and flossing, along with professional cleanings every three to six months depending on your degree of vulnerability to gum disease. Subsequent healing will stimulate tissue reattachment to the teeth.
In the case of excessive biting forces, we primarily want to reduce their effect on the teeth. Treatment can include muscle relaxants or anti-inflammatory drugs, or a custom-fitted bite guard to minimize biting forces from teeth grinding during sleep. In some cases we may opt to reshape the biting surfaces of teeth through removal of small amounts of surface enamel: this will reduce the biting force by altering how the upper and lower teeth contact. It's also possible to splint loose teeth to more stable teeth, joining them like pickets in a fence. This helps relieve the biting force on teeth with significant loss of bone support.
If you notice a loose tooth, you should make an exam appointment with us as soon as possible. The sooner we can diagnose the cause and begin treatment, the less chance you'll lose your tooth.
If you would like more information on loose teeth, please contact us or schedule an appointment for a consultation. You can also learn more about this topic by reading the Dear Doctor magazine article "Loose Teeth."