Posts for tag: tooth replacement
By David A.Susko DDS, PC
October 20, 2016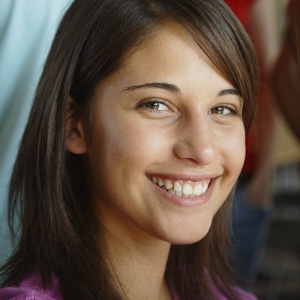 Losing a tooth affects not only your smile but your overall dental health too. A dental implant solves both issues: it replaces the whole tooth, including the root, to merge durability with a life-like appearance.
For teenagers with a missing tooth, however, an implant may not be a good idea, at least until they've physically matured. Although their permanent teeth have usually all come in by puberty, the jaws and facial structure continue to develop into early adulthood. An implant placed too early could appear misaligned when the jaw fully matures.
The best approach for teens is a temporary replacement until they're physically ready for an implant. There are two good options: a removable partial denture (RPD) or a fixed bonded bridge.
Common among adults, an RPD is also a viable replacement for a teenager's missing tooth. An RPD consists of a prosthetic (false) tooth set in a nylon or acrylic base that resembles gum tissue. Metal clips formed in the RPD fit over adjacent teeth to hold the appliance in place; this also makes it easy to remove for cleaning or sleep time. We typically recommend an acrylic base for teens because it's easier to adjust if the RPD's fit becomes loose.
To hold it in place, a traditional bridge uses crowns on either side of the replacement tooth to bond over the natural teeth next to the open socket. Because this requires permanently altering the support teeth, we recommend a bonded bridge that doesn't.
This modified bridge uses wing-like strips of dental material on the back of the false tooth that project outward. With the tooth in place, we bond the extending portions of these projections to the back of the adjacent teeth, which secures the false tooth in place.
Of the two options, the bonded bridge is more comfortable, buys the most time and looks the most natural. But it will cost more than an RPD. Bite issues, teeth grinding, overall gum health or your child's level of hygiene conscientiousness could also nix it as a viable option.
Either choice will effectively replace your child's missing tooth until it's time for a permanent restoration. We'll help you weigh all the factors to determine which one is best for your situation.
If you would like more information on restoration options for teens, please contact us or schedule an appointment for a consultation.
By David A.Susko DDS, PC
June 11, 2016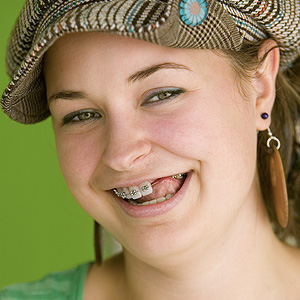 While tooth loss can occur at any age, replacing one in a younger patient requires a different approach than for someone older. It's actually better to hold off on a permanent restoration like a dental implant if the person is still in their teens.
This is because a teenager's jaws won't finish developing until after nineteen or in their early twenties. An implant set in the jawbone before then could end up out of alignment, making it appear out of place — and it also may not function properly. A temporary replacement improves form and function for now and leaves the door open for a permanent solution later.
The two most common choices for teens are a removable partial denture (RPD) or a bonded fixed bridge. RPDs consist of a plastic gum-colored base with an attached prosthetic (false) tooth matching the missing tooth's type, shape and jaw position. Most dentists recommend an acrylic base for teens for its durability (although they should still be careful biting into something hard).
The fixed bridge option is not similar to one used commonly with adult teeth, as the adult version requires permanent alteration of the teeth on either side of the missing tooth to support the bridge. The version for teens, known as a "bonded" or "Maryland bridge," uses tiny tabs of dental material bonded to the back of the false tooth with the extended portion then bonded to the back of the adjacent supporting teeth.
While bonded bridges don't permanently alter healthy teeth, they also can't withstand the same level of biting forces as a traditional bridge used for adults. The big drawback is if the bonding breaks free a new bonded bridge will likely be necessary with additional cost for the replacement.
The bridge option generally costs more than an RPD, but buys the most time and is most comfortable before installing a permanent restoration. Depending on your teen's age and your financial ability, you may find it the most ideal — though not every teen is a good candidate. That will depend on how their bite, teeth-grinding habits or the health of surrounding gums might impact the bridge's stability and durability.
A complete dental exam, then, is the first step toward determining which options are feasible. From there we can discuss the best choice that matches your teen's long-term health, as well as your finances.
If you would like more information on tooth replacement solutions for younger patients, please contact us or schedule an appointment for a consultation.
By David A.Susko DDS, PC
March 13, 2016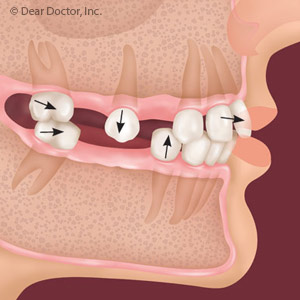 Your front teeth are the stars of your smile — so it makes perfect sense to replace them if they're missing. But is it really necessary to replace a largely unseen back tooth with an implant or bridgework?
The answer is an unequivocal yes. Your individual teeth are an interactive part of a dynamic mechanism that enables you to eat, speak and smile. They're highly adaptable and can move incrementally to accommodate mouth changes — especially when one of them is lost.
Back teeth not only help us chew food efficiently, they also ease some of the pressure from front teeth as we chew. Our efficiency while chewing suffers when they're missing; other teeth will wear faster and tend to move out of position, "drifting" into the space left by the missing tooth. And without their stimulation during chewing, new bone may grow at a slower rate to replace older bone, reducing bone volume over time.
So, whether visible or not, replacing a back tooth is the best course to take to prevent these adverse consequences. Your two best options are fixed bridgework or dental implants, each with their own advantages and disadvantages.
Bridgework has been the traditional method for replacing one or a few missing teeth: they're long-lasting if cared for properly, have a life-like appearance that blends well with other teeth and are a good option when implants aren't. But they require extensive altering of the anchor teeth (those used on either side of the bridge to secure it) and they're highly prone for trapping food between them and the gums, increasing the risk of disease.
Dental implants are easily maintained and their installation doesn't affect adjacent teeth as with a bridge. They're also durable with a 95% success rate after ten years. On the other hand, the installation process can take several months and visits, and they require a certain amount of bone mass for proper placement and so aren't ideal for certain patients.
Regardless of its location, if you have a missing tooth or one that may need to be removed, you should visit us for a complete examination. From there we can tell you how your mouth has been impacted by the missing tooth and which replacement option is best for you.
If you would like more information on tooth replacement options, please contact us or schedule an appointment for a consultation. You can also learn more about this topic by reading the Dear Doctor magazine article "Replacing Back Teeth."